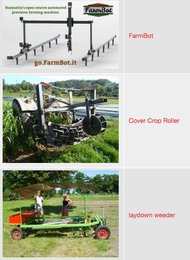 Farm Hack attended the Young Farmers Conference at the Stone Barns Center for Food and Agriculture in Tarrytown, NY this past weekend. One of the exciting outcomes of the conference was this piece by Andrew Revkin at the New York Times. It highlights the efforts of Farm Hack and Slow Tools to support the development of open source tools for resilient agriculture.
The Slow Tools Summit is an annual gathering of farmers, engineers, and makers. This year the group came together the day after the Young Farmer's Conference to brainstorm solutions to problems faced by farmers. The group was led by Adam Lemieux, from Johnny's Selected Seeds, and Jack Algiere of the Stone Barns Center. Farm Hack is looking forward to developing these partnerships.
Improve by collaboration.
Grow by participation.